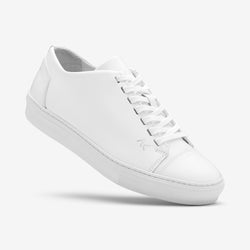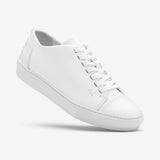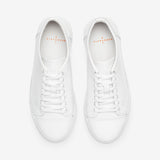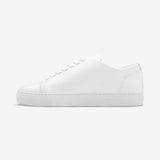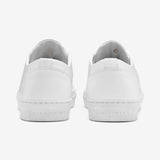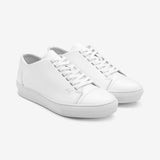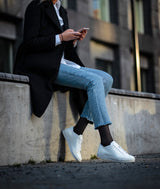 FRESH 
Sneakers in full swing, swag, for any occasion. A shoe made to be worn. Slide in sleek. Smart crisp. Bye bye humdrum – This is slam damn. For every day, not just Mondays. 

DETAILS
Designed in Sweden

Handcrafted in Portugal
100 % leather
Leather lining
Waxed cotton laces
Rubber sole measures 3 cm/1.18 inch
Sole has been stitched and glued for durability
Latex insole, extra soft for everyday use
Logo debossed on side
Fits true to size
Alexander Kay fits true to size, but if you are between sizes we recommend you to measure your feet.
The easiest way to measure your feet is to stand up straight on a hard surface with your heel against a wall. Tape a piece of paper on the floor and stand on in. Let someone mark the longest part of your foot at the tip of your big toe, or do it yourself (more precise if someone else helps you out). Measure both feet because your feet can be in different sizes. Use a ruler to measure the size of your feet, from heel to toe. We recommend 0,5-1 cm spare room for a more comfortable fit.
| EU | US W | US M | UK | CM | INCH |
| --- | --- | --- | --- | --- | --- |
| 35 | 5 | | 2,5 | 23.5 | 9.2 |
| 36 | 6 | | 3,5 | 24 | 9.4 |
| 37 | 6.5 | | 4 | 24.5 | 9.6 |
| 38 | 7.5 | | 5 | 25 | 9.8 |
| 39 | 8,5 | 7 | 6 | 25.5 | 10 |
| 40 | 9 | 7.5 | 6,5 | 25.9 | 10.19 |
| 41 | 9.5 | 8 | 7 | 27.6 | 10.8 |
| 42 | | 9 | 8 | 28 | 11 |
| 43 | | 10 | 9 | 29 | 11.4 |
| 44 | | 10.5 | 9.5 | 29.6 | 11.6 |
| 45 | | 11 | 10 | 30 | 11.8 |
| 46 | | 12 | 11 | 30.7 | 12 |
| 47 | | 13 | 12 | 31,2 | 12.2 |